Using electronic signature is becoming a growing trend for online service transactions, implementing electronic workflows and reducing the usage of papers. CTT "eSignCloud Service", provides electronic signature for the above services and allows users to sign electronic documents or transactions anywhere and anytime. eSignCloud services increases productivity and competitiveness in both government departments and business organizations, which will in turn reduce manpower and operating cost.
"eSignCloud" service is a Normalised Certificate-based signing service which provides users from government departments, business organizations and individuals a safe, reliable and user friendly signing tool for all their online transactions. eSignTrust operates the "eSignCloud" service system in an environment with strict security practices which incorporates all physical, personnel, procedural and documentation requirements needed for retaining the legal values of the electronic signatures.
Service Features:
The "eSignCloud" service is designed to enhance user authentication and integrate easily into an "electronically signable" web application. Users can use the "eSignCloud" enabled online service or application through the Internet, with their personal "eSignCloud" accounts and Normalised Certificates that are under their own control, to sign electronic documents online. Users can easily carry out electronic signing with legal effect, and experience more advanced and convenient services, anytime and anywhere.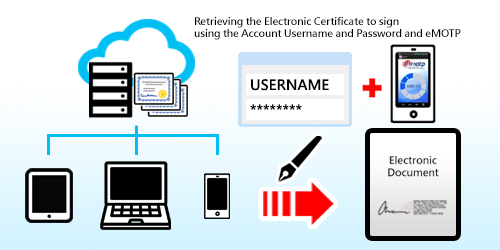 Service Advantages:
Compliance with the Law: In line with the requirements of the Macao Special Administrative Region No. 5/2005 Electronic Documents and Electronic Signature Law, to create a safe, reliable and legally effective electronic signature.
Safe and Reliable: The Normalised Certificate adopted the PKI (Public Key Infrastructure) technology, which complies with international security standards, to ensure the integrity of signed electronic documents, the identity of the signer and the non-repudiation of the signature. The signature service adopted the Transport Layer Security Protocol (TLS) to ensure security and integrity of data, while the client-side authentication techniques help to restrict unauthorized access. A user is authenticated with the account username and password, and together with the free eSignTrust Mobile One-Time Password (eMOTP) to perform a two-factor authentication while carrying out electronic signing.
Easy to Use: The operation is easy to use and understand, and there is no need to carry any extra hardware and install any hardware and software drivers. Users simply input the account username, password or / and the eSignTrust Mobile One-Time Password (eMOTP) in order to create the electronic signature. In addition to the use of personal computers to sign electronic documents, users can also use mobile devices such as tablet PCs or smart phones anywhere and anytime to experience the new, easy and convenient means of electronic signing service.
Affordable Price: Users do not need to purchase any additional hardware for signature activation storage.
Contact Us:
For more information about the eSignCloud Service, please contact (853) 28330338 during the office hours (Monday to Thursday 09:00-17:45, Friday 09:00-17:30) or email us at enquiry@esigntrust.com.