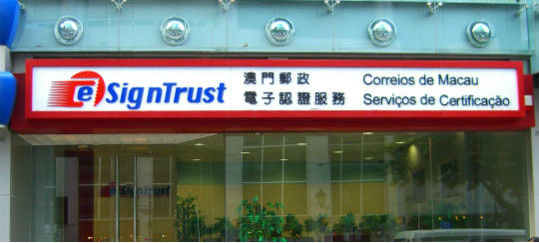 eSignTrust Registration Authority (RA) is responsible for Identification and Authentication of Certificate Holder (Subscriber), its purpose is to collect and verify each Subscriber's identity and information to be registered into his or her Public Certificate. The RA performs its function in accordance with the Law and eSignTrust's CPS, and any other relevant agreements or policy documents such as Subscriber Agreement. Areas and activities overseen by the RA include, but are not limited to:
In person proofing;
Verification and validation of identity documents;
Enrollment and registration;
Handle request for renewal, suspension and revocation;
Post issuance updates.
For additional details and business hours of the registration office, please call at the telephone numbers shown below or visit us at the following conveniently located address:
eSignTrust Registration Authority
Division of Electronic Certification Services
Macao Post and Telecommunications Bureau
Avenida da Praia Grande no.789, R/C,
Macau
Tel: +853 2833 0338
Fax: +853 8299 5515
Email: enquiry@esigntrust.com
You will need to allow about half an hour to complete the registration process once you are with the registration officer. Please link to Products on this website for information on requirements and how to register for a Certificate.